Worthington High School


Class Of 1989
25 Year Reunion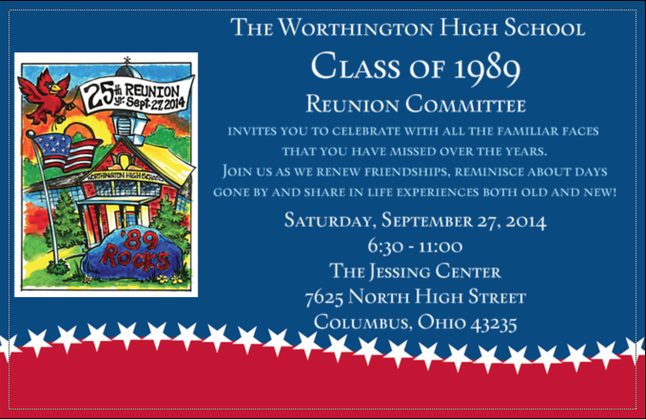 Reunion Events
Friday, September 26, 2014, 7:30 P.M.
Join us as we watch the Cardinals take on the Westland High School Cougars
at our Homecoming game!
Game time is 7:30 P.M. Admission tickets are $6 per person at the gate.
Be sure to show your spirit and wear Red & Blue!
Hamilton Field, 300 W. Dublin Granville Road
Hope to see you there!
Friday, September 26, 2014, After the Homecoming Game
Roadhouse 66 will feature an '80s cover band on our behalf. Join us as we continue the festivites!
480 East Wilson Bridge Road
Saturday, September 27, 2014, 6:30 - 11:00 P.M.
25th Reunion
The Jessing Center, 7625 North High Street, Columbus, Ohio 43235
Heavy hors d'oeuvres will be served throughout the evening
$50 per person, $75 per couple if registered prior to September 19th.
Space is limited so please be sure to register in advance.
We will continue the party at Winking Lizard or Wurst und Bier
(just across US 23) by Campus View
*Please Note: Rates will increase to $75 per person; $100 per couple on September 20.
Holiday Inn - Worthington
If you need a hotel room, we have a block of rooms reserved at the Holiday Inn - Worthington at 7007 North High Street, Worthington, Ohio 43085. The group rate is $89/room. Mention that you are with (Thomas) Worthington High School Class of 89 when you call to make your reservation. The phone number is 614.436.0700. You have until Friday, September 5, 2014 to reserve this rate.
We look forward to seeing you!
Jill (Barton) Strode, Kim (Collins) Hively, Chris Combs, Kelly (Eyer) Fogt, Kellee Gauthier, Melody Gilmore, Jim Highfield, Rick Murray, Chad Ogden, Ron Porchinsky, Erin (Rainey) Sexton, Heather (Sprecher) Stickler
TWHS Homecoming Game (Friday September 26 2014)
$6 at the door
25th Reunion (Saturday September 27 2014)
$75 per person, $100 per couple
Sorry, you must be logged in to buy tickets.
If you would like to order please
log in here
.
| NAME OF ITEM | QTY | COST |
| --- | --- | --- |
| Admission Ticket - Single | | $75.00 |
| Admission Ticket - Couple | | $100.00 |